Our software and solutions have been utilized by
1000+
Tax and HR Professionals
Products and Services
Everything you need to calculate salary, taxes, HR management, HR allocation, monitor projects and billing

Electronic Workflow
Approval of various jobs can be done electronically so that it is more efficient and supports paperless policy.

Centralized Data
Data is stored at the data center that is easily accessed from anywhere and supported by an automatic backup system.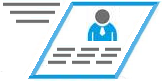 Notification
Employees and users of HR-Finance are reminded of important work to be done so that it is not missed.

Easy to Use
Our software is made with the mindset 'make it simple and intuitive' to be easy to learn and not prone to misuse.

Accurate and Complete
Various calculations that require accuracy such as taxes, BPJS, take home pay, etc. can be done by software for various cases.

Informative Dashboard
Various important information is presented on the dashboard that can be set to display information selected by the user.

Resource Management
Management can see and manage the allocation of HR for various projects and monitor project effectiveness.

Invoice Monitoring
After certain stages of work are completed, the Finance department is reminded to make an invoice.